Apps4Good iHackathon oh-ten, Halifax + Saskatoon =
by Ian on June 14, 2010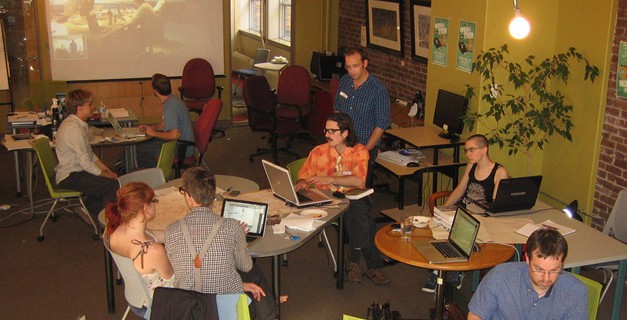 The last weekend in May brought us the second annual iHackathon (formerly iPhone Hackathon) for Charity, because yes, we had iPads this year! On the weekend they were released in Canada in fact, but a bunch of us had acquired them early. Quite possibly the highest concentration of iPads in HRM. But I digress…
The turnout this year was great, with twice the number of participants (around 30) in Halifax the Hub was comfortably full. We had Apps4Good founder Dale Zak leading a Hackthon in Saskatoon too. In total about 50 people participated.
All-in-all a great event. Four apps started in Halifax and three in Saskatoon (3x that of last year) and I think we had great progress for a weekend and a lot of enthusiasm. You can check out the Apps4Good site for info on each app and charities.
Taking what we learned form last year we wanted to hit the ground running with app ideas and teams ready to go in the morning. So the Tuesday before the Hackathon we put up a discussion board, had a meeting to flush out ideas and create a shortlist. Then on Friday we went over some new ideas, and rated everything on two main fronts: technical feasibility (whether we could do it, especially in a weekend and our free time) and market potential (who's it for? do these people exist? will they buy it? etc).
The challenge now is how do we keep the ball rolling and work with everyone, now across two provinces and strategize together (or should we)? How do we efficiently finish the apps? I see a 37signals-esq approach – prioritize, iterate, focus on making things happen vs. making detailed plans for things to happen. It should be a unique experience, one I look forward to going into with an open mind and learning from.
And last by not least, big thanks to event sponsors in Halifax, the Hub for the space, Liquid Media, Economic & Rural Development, Innovacorp for food and MindSea shirts too, Beyond the Box Law for down-to-Earth help, and in Saskatoon Zu for food and VendAsta who provided space.